La #NextGen ataca
Comprendiendo al público, una cuestión generacional
La corta carrera de Karen Khachanov tuvo un extraño desarrollo. Debutó en un Future en marzo de 2012 con 16 años y no volvió a jugar en profesionales hasta septiembre de 2013. Su segundo torneo como profesional fue el ATP250 de San Petersburgo 2013 y allí consiguió su primera victoria ATP ante Victor Hanescu (66°). No conforme con eso, tres semanas más tarde en el ATP250 de Moscú alcanzó los cuartos de final con triunfos ante Ramos (72°) y Tipsarevic (27°). Victoria en Copa Davis, cuartos de final en el Challenger de Ginebra (Suiza) y primera ronda en Helsinki (Finlandia) fue todo su andar por el circuito. En dos meses de competencia pasó de no tener puntos ATP a finalizar la temporada 2013 como el 451° del mundo. Los ojos del mundo puestos en él.
Su irrupción fue tan abrupta como su caída. No pasó la qualy de ningún ATP ni los cuartos de final de ningún Challenger, además de varias primeras rondas perdidas. A pesar de los malos resultados en comparación a los de meses anteriores, su ranking subía ya que no había disputado casi torneos la temporada pasada y sumaba todo lo que jugaba. Top300 antes de Moscú, finalizó el 2014 en el Top400, acorde a su temporada en torneos menores del circuito profesional. Mirando el pasado, el propio jugador reflexiona sobre su irrupción en el circuito: "No estaba preparado para hacerlo de un modo más consistente. Es por eso que me costó más encontrar mi juego. Solo tienes que pasar por las etapas y creer que lo superarás. Algunos tardan más en llegar, algunos van más despacio".
Ver imagen en Twitter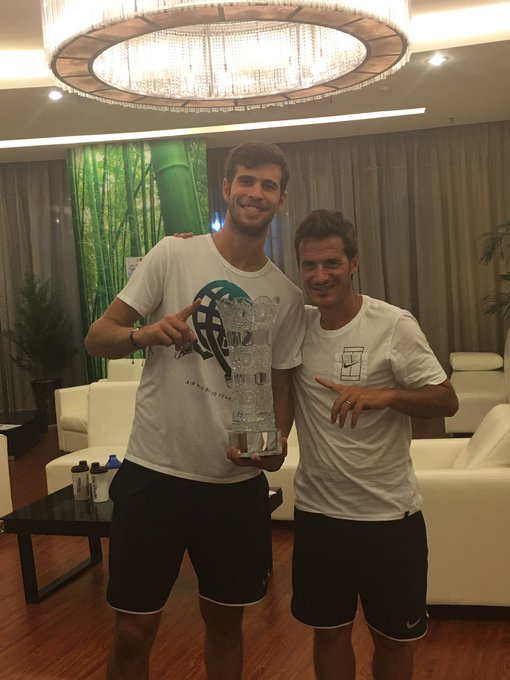 galo blanco @galo_blanco

Y aquí está el campeón @karenkhachanov, no puedo estar más feliz y orgulloso.
And here you have the champion. I can't be happier and prouder

10:07 – 2 oct 2016

3737 Retweets

104104 me gusta
El 2015 fue similar al 2014 con leves cambios positivos. Fue campeón de tres Futures y semifinalista de un Challenger (varios cuartos de final), pero siguió sin poder ingresar a un ATP. Terminó esa temporada como el 152° ATP, una progresión en el ranking más normal para un jugador de su edad. Comandado por el español Galo Blanco, Karen fue paso a paso en 2016. Clasificaciones en torneos ATP, segundo cuartos de final en un ATP250, Top100 por primera vez en su carrera, primera victoria en un Grand Slam y lo mejor aun no había llegado. Karen llegó a China a disputar un torneo que debutaba en el circuito ATP, el ATP250 de Chengdu.
198 centímetros de altura al igual que su compañero de la #NextGen Zverev, y que los ya consagrados Del Potro y Cilic; menos 'suelto' técnicamente que ellos pero no por eso menos potente y decisivo, ordenó su patrón de juego en relación a sus años de juvenil y los resultados llegaron solos. Sousa, Mannarino, López, Troicki y Ramos fueron los rivales que sorteó para ser campeón del ATP250 de Chengdu. Primera final y primer título. Los objetivos que un jugador se plantea a largo plazo, Khachanov los logró en menos de una temporada. El trofeo lo deposito al borde del Top50 (55°) con tan solo 20 años de edad. Presente y futuro.
El saque y la derecha, sus principales armas
"Estaba enfocado en cada partido, esa fue la diferencia con otros torneos. Estaba jugando consistentemente pero no esperaba que mi primer título llegara esta semana. Estaba con confianza en cada partido y haciendo las cosas que podía controlar. Trabajé para esto y estoy muy contento", Karen Khachanov en declaraciones el sitio de la ATP. Cuando le preguntaron cuán especial era para él esta victoria, respondió así: "Estoy muy feliz de haberlo logrado. Es el primer sueño que alcanzo pero la victoria es especial porque es el día del cumpleaños de mi mamá. Estoy feliz de que mi primer título sirva como un regalo para ella".
Khachanov se convirtió esta semana en el tercer jugador #NextGen en debutar como campeónATP y en el noveno en lo que va de 2016, un número que marca el recambio generacional que vive en circuito con tenistas cada vez más longevos pero con jóvenes que irrumpen con más frecuencia que en años anteriores. Ruso de nombre armenio, Karen estudia Licenciatura en Educación Física a distancia (rinde cada vez meses en Moscú). Según cuenta el blog Fue buena, entre sus hobbies se encuentra la literatura (novelas clásicas), el ajedrez y lanzar dardos para mejor su concentración. Sus ídolos son Marat Safin y Juan Martín Del Potro, de estilos de juego similares al propio Khachanov.
Para conocer a Karen Khachanov
Más allá de la derrota, Albert Ramos Viñolas está en su mejor temporada ATP. Campeón ATP por primera vez en su carrera en Bastad meses atrás, la final en Chengdu lo depositó en el Top30 por primera vez en su carrera (27°). A los 28 años el zurdo español llegó a la tercera final de su carrera (1-2), le primera fuera del polvo de ladrillo y estuvo cerca de quedarse con el título tras caer 6/7 7/6 6/3 en 2h 39m de intensos intercambios desde el fondo de la cancha en los que prevaleció el ruso. El H2H entre ambos quedó en favor del más joven 2-1 luego de haber perdido en Estambul meses atrás y de la victoria en su recordado Moscú 2013 con apenas dos partidosATP disputados en su haber.
Daniel Vitale Pizarro